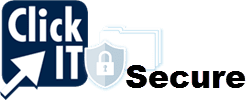 Click IT Secure Plans & Pricing
Your plan & pricing is based on answers to a series of questions. If at anytime you'd like help completing this cost-calculator, simply schedule a free security assessment, contact us or call us toll-free at (800) 368-7416. To go to the main page, click Click IT Secure. You can save and come back to completing this form at any time.
Thank you. We will review the estimate and get back to you shortly to confirm and discuss scheduling your installation if it meets your approval.